Other Works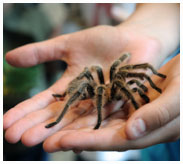 This is a partial list of my published articles and short stories. You'll find a little bit of everything here—animals, science, history, profiles of amazing kids, humor, mystery, and more.
Nonfiction
More than 120 articles for Scholastic's Science World and SuperScience magazines
To read more about these articles, go to the Science Writing page.
Highlights for Children
"Helping Tiny Tortoises Feel at Home" (August 2014)
Spider
"Mariah and the Running Feet" (May/June 2010)
"Beware of the Spider" (August 2005)
"Happiness Is an Elephant Calf" (April 2005)
"The Stripes Will Survive" (April 2004)
Cricket
"A Fort in Disguise" (November/December 2008)
"A Room Full of Crystals" (November 2007)
"A World of Wings Under Glass" and "Fleeting Beauty: A Butterfly's Life Cycle" (May 2006)
"Saved by the Ark" (June 2005)
Hopscotch for Girls
"Mammoth Musicians" (August/September 2005)
Ladybug
"Dominick's Dancing Horses" (June 2004)
Odyssey
"Winged Mysteries" (October 2003)
Read
"Measure Up or Be Put Down" (January 3, 2003)
The School Magazine of Australia
"Save the Artists" (February 2002)
Fiction
Highlights for Children
"Cat Clues" (June 2011)
"Lizard Problems" (November 2009)
"Bunk-Bed Blues" (January 2007)
"Stinky Treasure" (April 2006)
Winner of the 2005 Highlights for Children Fiction Contest
"Aly's Discovery" (August 2004)
Winner of the 2003 Highlights for Children Fiction Contest
Story Something 
"The Mystery of the Missing Envelope" (a story you can personalize)
Professional Development Articles for Writers
Children's Writer  
"Quotations with Purpose" (April 2011)
"No Wasted Words: Memorable Magazine Fiction" (July 2008)
"Put Your Readers on the (Research) Spot" (June 2006)
"Taking the Pain Out of Rejection" (June 2005)
"Write Like a Sculptor" (December 2004)
"Beauty Is in the Eye of the Beholder" (September 2004)
Writer's Guide to 2010
"The Inside Story: Crafting Unique Material Through Interviews"
Children's Writer Guide to 2009
"The Revision Rainbow: Finding the Pot of Gold"
Children's Writer Guide to 2007
"Open Up the Universe with Science Writing"